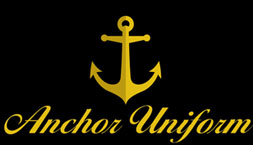 Who is Anchor Uniform Manufacturing?
We have over 38 years experience in high fashion outerwear and rainwear. We apply our expertise to career apparel for styling, fit and quality. At Anchor Uniform we strive to do our best to make you the best.

Are all Anchor Uniform Styles shown here?
No. Anchor Uniform is perhaps the leading American manufacturer of quality retail outerwear and rainwear for men. Some is sold under our name and much is private labeled to well known national retailers. None of these coats are shown in our catalog or our website.
Also, some large police departments, government agencies and corporations order special styles and colors. We can customize almost any style and can add colors to your specifications. We will be happy to discuss your needs.

Can you fit unusual sizes?
Yes. If a size that you need is not shown, we can make it to measure.
Contact us or a Anchor Uniform distributor.
Can I buy direct from Anchor Uniform?
No, but you can go to the Contact us page on our website and we will have a distributor contact you, or you can go to the Distributors page and contact a distributor directly.
Are your garments warrantied?
All outerwear is warrantied for three years for defects in either workmanship or materials.